Our fire rated products are certified to withstand up to 240 minutes of exposure to fire
Warrington Certifire Certification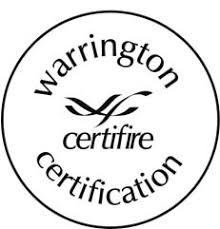 Warringtonfire offers UKAS accredited certification from its Warrington office and is able to provide certification schemes for products and personnel.
Certifire is an independent third-party certification scheme that assures performance, quality, reliability and traceability of products and systems.
The Certifire brand is recognized by regulatory authorities worldwide as an international mark of fire safety across a diverse range of products including hardware and fire rated doors.
Certifire is suitable for manufacturers of fire protection products and systems, as it offers the opportunity to differentiate products and processes from non-certified equivalents, thus helping to access markets worldwide.
The scheme can also be used by architects, specifiers, contractors and building owners, as Certifire provides assurance that fire protection products and systems correctly installed will perform as required. Therefore, avoiding costly mistakes and dramatically reducing risk.
The fundamental benefit of Certifire is seated in giving the regulator, specifier, customer and end-user confidence with regards to the stated performance of the product and provides an informed choice when purchasing or selecting the product.
Choosing a steel door product that carries the mark of a reputable third-party certification body gives assurance as to the performance of the products. Using certified products, correctly installed (in our case including white fire rated mastic), provides a powerful demonstration that due diligence has been served.
If you'd like to discuss your steel security door requirements, please call us on 0333 444 2476 or use the contact form below to send us a message.
A few companies we've worked with
Customers Include